When Delta begins working with you, we will provide and dedicate all the company resources to the phase-in team with the sole intent of providing a smooth transition.
Delta realizes that the Phase-In period of the contract is of paramount importance. Therefore, we have developed a Phase Plan to be used with all our new clients. The Plan includes the following activities:
A complete survey of our existing labor force plus a check of the local geographical area is done to provide staff requirements.
The facility is toured by our Operations Department to better understand all aspects of the contract. This is to include: Security Procedures, Garbage disposal locations, Fire Route, Lights and location of Janitorial Storage Areas, Water and Electrical sources.
A check list is completed to assure all cleaning supplies and equipment are ordered and/ or in stock and ready to be installed at the facility.
The operations team insures that all employees are familiar with the facility and their cleaning abilities. Additional personnel are available to assist with any extra work.
Finally, to ensure a complete and smooth transition, the District Manager and the Director of Operations will follow up.
In conclusion, our clients can be assured that they will have the full resources and support of Delta at their disposal to provide for any and all housekeeping functions necessary during the Phase-In Period. The Service Program prepared by the Operations and Client Development Departments is developed for our clients through a detailed analysis. The analysis includes the following:


A study of the facility information provided by your areas to be serviced, standards of performance, frequencies and site requirements.
A review of the information developed during our tour of your facility.
The measurement and analysis of various floor surfaces, square footage and densities, with accommodations being made for carpeted and hard-surface floors.
A consideration of traffic patterns and population density.
An analysis of net-cleanable square footage
Work-loading with the above information to determine staffing requirements, job allocations and equipment/supply needs.

A formal interview, selection and orientation process is utilized by Delta for all prospective employees. This process includes:
Completion of application and Arbitration Agreement
Personal interview conducted by District Manager
Background checks – Delta complies with all State and Federal laws and employment practices
Picture ID and uniform issued (where required)
Initial orientation at facility
Safety orientation (Safety Handbook)
Rules and regulations (Employee Handbook)
Initial training by Supervisor
Daily Covid-19 Survey
Pay Stub Survey to ensure direct communication between HR and all employees
Sexual Harassment Training
New hire evaluated by Supervisor /District Manager
After ninety (90) days becomes a permanent employee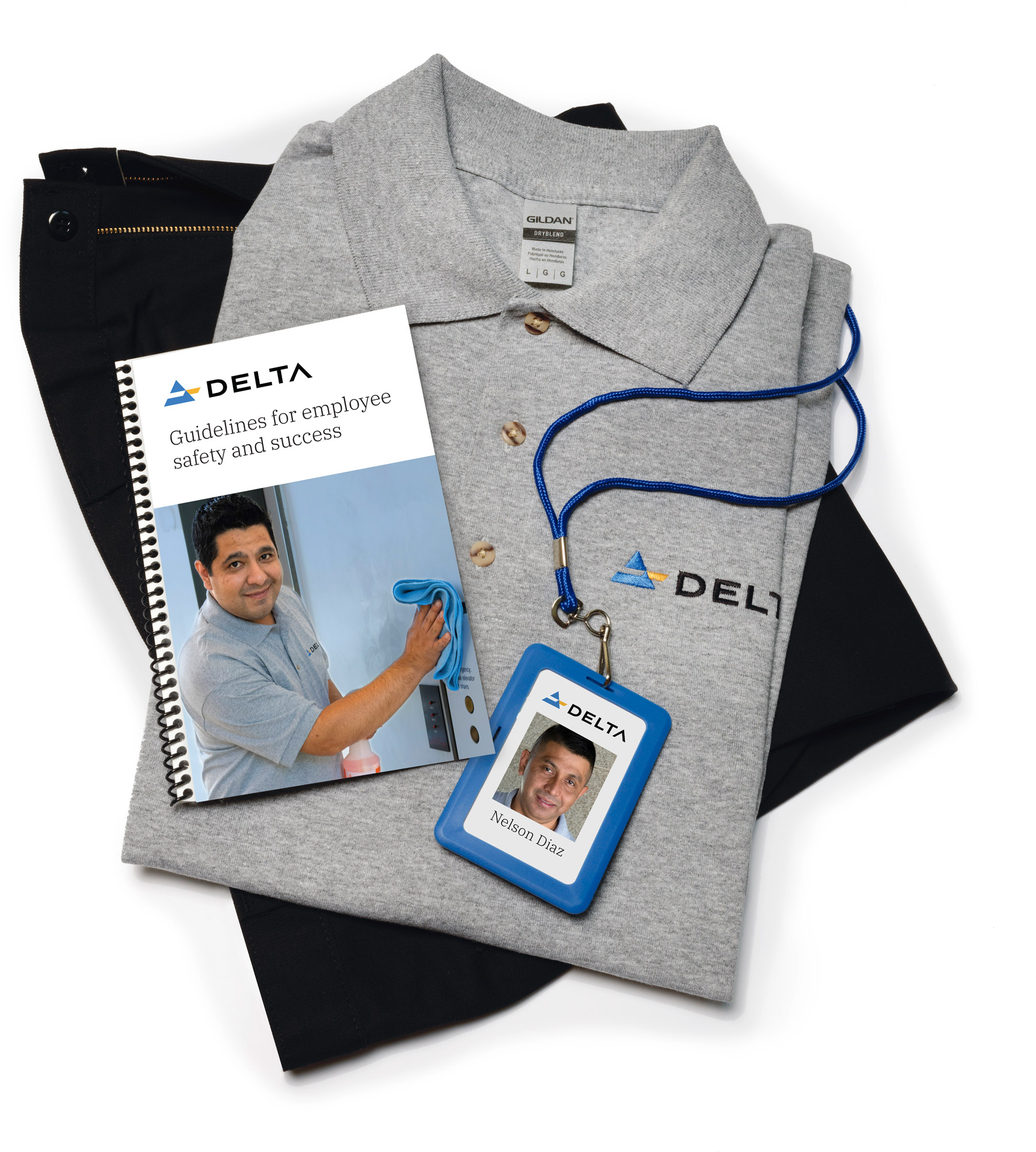 Training for Cleaning and Safety
The training process begins at the site supervision level.  Once the service process has been established, District Management and Site Supervision meet to focus on the following key elements:
Building layout, security and safety
The Service Process; staffing, systems for cleaning the building and the prioritized requirements for each area
Understanding the needs and expectations of the customer
Communication with the customer
Empowerment – the ability to make decisions
After completing the required employment qualifications process, general and specialized task cleaners are instructed as to their specific functions, and their goals for productivity by both the District Management and Site Supervision Departments. The Employee is then assigned to an area to familiarize them with the specific service process for that zone.  By making the cleaner a specialist in a given area, the employee increases his or her knowledge of the service function for that area.  At this point, the cleaner becomes a source of valuable input for evaluating the process in that zone. If a problem develops in the area, it is identified and corrected by providing additional training, or by changing the process. This is accomplished using input from the cleaner in conjunction with the measurement phase.
All of Delta's employees receive extensive on-site training coupled with a detailed description of their responsibilities. Key personnel receive pre-training at other facilities.
Supervision maintains nightly communications and interaction with cleaning personnel to check the work that has been performed, and to obtain progress reports.
The supervisor is trained to take an active role in the decision making process; it allows them to better understand the customer's needs. Good communication between the Supervisor and the Employee facilitates an accurate collection of information, so that the supervisor may best meet the needs of the client.

Delta Building Services offers White Glove Concierge and Doorman Services. For our clients, this means a front desk staff of seasoned professionals and 24/7 coverage when needed from a large reserve of rigorously trained,
pre-screened and approved personnel. It also means flexibility for extra staffing when more coverage is required, such as during busy holiday times when package deliveries and guest volume are greater than normal.
Choosing the right staff begins with the interview process, completed by our seasoned Front Desk managers. Before hiring, criminal and credit background checks are completed, as well as drug testing.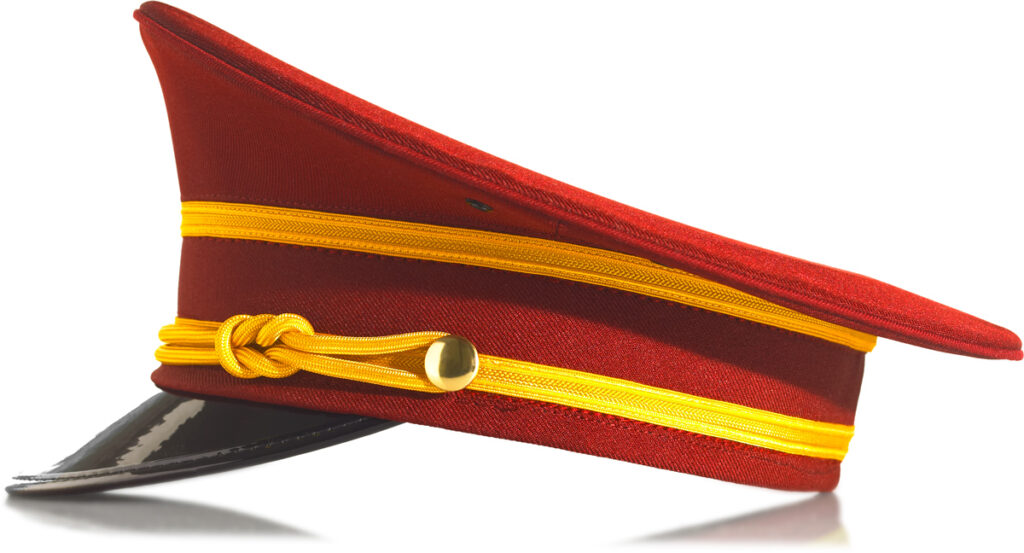 Once hired, a thorough training program is initiated. It begins with decorum, a key factor in respectfully handling customers and working with others. All Delta personnel complete "Get to Know Your Client" training and "Cross Training," which ensures that our Front Desk staff are seamlessly intertwined with all other service departments. This also ensures that they will function well and work together as a team. In addition, building-specific training takes place covering general safety procedures, fire safety procedures, and package systems training.
At Delta Building Services, having a properly fitting uniform not only instills a sense of pride in the job for the staff member, but also puts the client's best foot forward as an initial impression for all who arrive at your doorstep. For this reason, uniform fittings are a standard step in preparing a new employee.
Delta's staffing process is a partnership as well. We work with building management to create an hourly schedule that best suits your building's needs. Together, we tailor a custom standard operating procedures manual, which all Front Desk staff adhere to. To keep turnover minimal, an incentives program is set up to reward excellence.
When staffing is initiated, Delta Building Services upper management – both a District Manager and our Director of Operations – are involved on site, on a daily basis, to work with the team. Our managers will continue weekly visits for the duration of the contract. Each month, Delta management will hold an "Open Issue" meeting with our Front Desk staff and a property management representative to discuss any issues, brainstorm and find resolutions.